Despite current drought, golfers with strong Colorado connections have been in contention plenty at the Masters
By Gary Baines – 4/5/2021
Given the recent history, it may be hard to believe.
In the last 15 years, just one player with major Colorado connections has posted a top-10 finish in the Masters, which will hold its 2021 edition this week at Augusta National Golf Club in Georgia. That one player would be part-time Denver resident Kevin Stadler, who placed eighth in 2014, 32 years after his dad Craig, now also a Colorado resident, slipped on the green jacket.
But looking back on the results from all of the previous 84 Masters, more than 40 percent featured top-10 finishers who resided in Colorado — before, during or after the time the tournaments were played.
Some of those "local" golfers who finished on the final leaderboard at Augusta National are household names. Others might take some Googling for those not so familiar with Colorado golf history.
The list goes from Dudley to Duval, from Runyan to Irwin.
But while many locals have contended for the Masters title over the last decade, only one player who has lived in Colorado over a long period has actually prevailed in what is now the first major in men's golf. Colorado Golf Hall of Famer Craig Stadler, who has called Colorado home for more than a quarter-century, landed his victory at Augusta National in 1982.
Not surprisingly, given that several players with strong Colorado connections piled up numerous top-10s at Augusta National, locals faring well at the Masters have tended to come in bunches. The 1930s and early '40s, the early '60s, and much of the time from the mid-'70s to the early 2000s yielded plenty of high finishers with ties to the Centennial State.
All told, more than 20 players with major Colorado connections have made the cut at the Masters over the years.
This week, just one current local will compete in the Masters — Martin Laird, the former Colorado State University golfer who moved to the Denver area last year. Laird earned his spot in the field by winning the Shriners Hospitals for Children Open in October. It will be Laird's fourth Masters, but first since 2013. His best finish was 20th place in 2011.
Here are all the top-10 Masters finishes by players who have resided in Colorado for a considerable period of time — before, during or after they competed at Augusta National: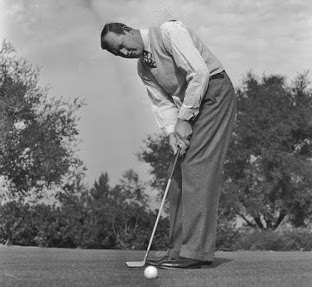 — 1934: In the first Masters — then known as the Augusta National Invitation Tournament — Paul Runyan tied for third place, while Ed Dudley placed fifth.Runyan, the director of golf at Green Gables Country Club from 1972 to the early '80s, notched four top-10s in the first decade of the Masters, with third places in 1934 and '42 being his best showings. Runyan, winner of two PGA Championships and 29 PGA Tour events overall, ended up two strokes behind winner Horton Smith in the 1934 Masters.
Dudley finished four back of Smith. Dudley would serve as the director of golf at The Broadmoor Golf Club in Colorado Springs from 1941-63. Before the Masters took a three-year hiatus in the final years of World War II, Dudley was one of the top performers at Augusta National, where he served as the first head professional. From '34 through '41, he recorded seven top-10 finishes. Dudley, winner of 15 PGA Tour events, held jobs at The Broadmoor and Augusta National simultaneously from 1941-57 as the Augusta venue is typically open only from autumn to May.
— 1935: Runyan notched another top-10, finishing seventh, seven strokes back of winner Gene Sarazen.
— 1936: Runyan made it three straight top-10s at Augusta National by tying for fourth place, ending up five behind champion Horton Smith. Dudley finished sixth, another three strokes back.
— 1937: Dudley continued his strong run at his home course, this time posting his best Masters finish ever, ending up third, three shots behind champion Byron Nelson.
— 1938: Runyan and Dudley cracked the top 10 again, with Runyan placing fourth (three back of winner Henry Picard) and Dudley sixth.
— 1939: Dudley squeaked into the top 10 again by tying for 10th place, 12 back of champ Ralph Guldahl.
— 1940: Dudley notched another top-5 showing, tying for fourth, seven shots behind winner Jimmy Demaret.
— 1941: Make it seven top-10s in eight years at the Masters for Augusta National Golf Club head pro Dudley. This time he finished fifth as champion Craig Wood beat him by eight.
— 1942: In the only Masters held during America's involvement in World War II, Runyan matched his best showing by finishing third, three strokes out of a playoff in which Byron Nelson beat Ben Hogan.
— 1957: Dow Finsterwald, who would succeed Dudley as director of golf at The Broadmoor in 1963, recorded his first top-10 at the Masters, placing seventh with good friend Arnold Palmer, eight back of winner Doug Ford.
— 1960: Finsterwald made a run at the title, finishing third, two back of friend — and champion — Palmer. But those two strokes is exactly what "Finsty" was penalized — retroactively — for taking a practice putt on the fifth green during the first round, "not realizing he had violated rules" according to a newspaper account at the time.
— 1962: Finsterwald came ever so close to capturing the title. The 1958 PGA Championship winner tied Palmer and Gary Player at 8-under-par 280, forcing an 18-hole playoff. Again, Palmer helped deny Finsty the win as The King shot 68, Player 71 and Finsterwald 77 in the playoff.
— 1963: The year Finsterwald began his 28-year run as director of golf at The Broadmoor, he again was in the mix in the final round. This time, he ended up three behind the champion (Jack Nicklaus), tying for fifth place.
— 1964: Finsterwald recorded his fifth top-10 finish in an eight-year period at Augusta National, tying for ninth place, 11 strokes back of (who else?) Palmer, who won his fourth Masters. Finsterwald would finish with 12 PGA Tour victories.
— 1970: Dave Hill, a longtime Colorado resident starting in the 1960s, had his best showing at the Masters, tying for fifth place, four strokes behind champion Billy Casper.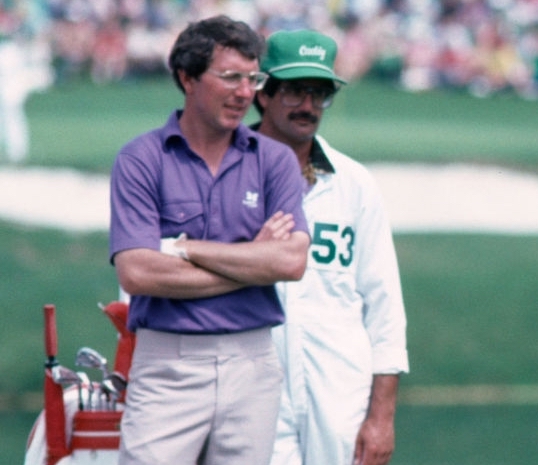 — 1974: A couple of months before claiming the first of his three U.S. Open titles, Boulder High School and University of Colorado graduate Hale Irwin began a strong run at the Masters during the 1970s. This time, Irwin tied for fourth place, three strokes behind winner Gary Player.
— 1975: Irwin places fourth at the Masters for the second consecutive year, this time after closing with a 64 to finish six behind winner Jack Nicklaus. Also notching a top-10 was Hill, who checked in seventh.
— 1976: Make it three straight top-5s at the Masters for Irwin, who tied for fifth in '76, 14 strokes behind runaway winner Ray Floyd.
— 1977: Irwin is a fixture on the Masters leaderboard again, recording his fourth consecutive top-5 showing by placing solo fifth, ending up six back of champion Tom Watson.
— 1978: Irwin's string of top-5s at Augusta National ends, but he makes it five straight top-10s with an eighth-place showing. He finished five behind winner Gary Player.
— 1979: Craig Stadler, who moved to Colorado in 1994, contends at the Masters for the first time. After a stellar start — 69-66, 74-76 on the weekend leaves The Walrus tied for seventh, five back of winner Fuzzy Zoeller.
— 1982: Stadler records the biggest victory of his career by prevailing in the first Masters decided by a one-hole playoff. He beat Dan Pohl in sudden death, parring the 10th hole while Pohl miss his 6-foot par attempt. Stadler led by six with seven holes remaining in regulation, but bogeyed four of those holes, including the 18th, where he three-putted. For the week, he went 75-69-67-73 for a 4-under-par 284 total. His 75 remains the highest opening round by a champion.
Stadler is the one person with major, longtime Colorado connections to have won the Masters. "Walking down the fairway on No. 11, I said to myself, 'This is easy,'" Stadler said after the final day in '82. "It looked like they all were playing for second and the only thing in doubt was by how much was I going to win. The National proved itself on Sunday again. I'll take 'em any way I can." Stadler competed in 36 consecutive Masters, ending his run after playing in the 2014 event with son Kevin.
— 1983: Defending champ Stadler, along with Irwin, tie for sixth place, six strokes behind champion Seve Ballesteros.
— 1985: Gary Hallberg, a longtime resident of Colorado who now lives in Niwot, records his best Masters showing, tying for sixth, four back of winner Bernhard Langer. Stadler also shares sixth place.
— 1988: Stadler makes another run at the title, eventually finishing third, two strokes behind winner Sandy Lyle.
— 1989: Mike Reid, who lived in Colorado for a year and a half while attending Cherry Creek High School, places sixth, ending up three out of a playoff that Nick Faldo won.
— 1991: Within a year after winning his third and final U.S. Open, Irwin ties for 10th place at age 45, finishing four strokes back of winner Ian Woosnam after a final-round 66. It was Irwin's seventh top-10 at the Masters.
— 1997: Justin Leonard, who would move to Aspen in 2015, records his first top-10 at the Masters, tying for seventh place, 16 strokes behind Tiger Woods, who won by 12.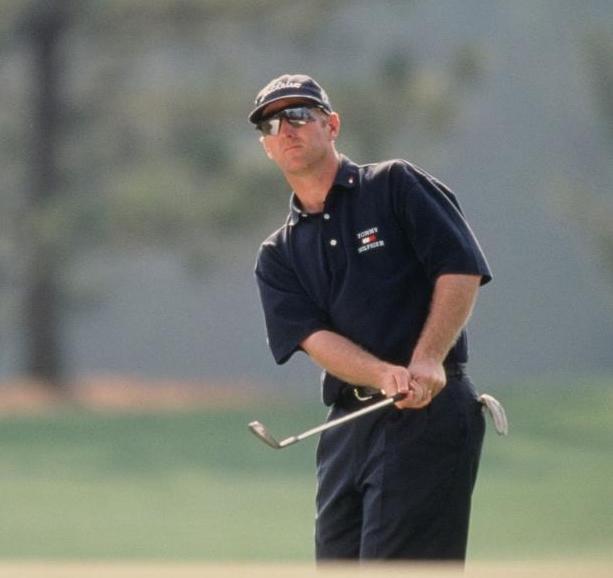 — 1998: David Duval, who became a Coloradan 5 1/2 years later, almost captures the Masters title, tying for second place, one stroke back of winner Mark O'Meara, who made a 20-foot birdie on the final hole. Leonard records his second straight Masters top-10, tying for eighth place.
— 1999: Duval makes another run at the title, tying for sixth place, five behind winner Jose Maria Olazabal.
— 2000: Duval continues his stellar play at Augusta National, sharing third place, four back of champion Vijay Singh.
— 2001: Duval makes it four consecutive top-6 finishes at the Masters, finishing second for the second time, in this instance two behind winner Tiger Woods. Chris DiMarco, who moved to the Denver area in 2018, tied for 10th place.
— 2004: DiMarco chalks up another top 10 at the Masters, tying for sixth place, seven back of champion Phil Mickelson.
— 2005: DiMarco records his third top-10 in five years, this time very nearly winning it all. A final-round 68 gave DiMarco a 12-under 276 total and forcing a playoff with Tiger Woods, who drained a 15-foot birdie putt on the first extra hole to prevail at the Masters for the fourth time.
— 2014: Kevin Stadler, a Kent Denver graduate who grew up in Colorado and remains a part-time Denver resident, ties for eighth place while joining dad Craig, the 1982 champion, in the field. They were the first father-son combo to compete in the same Masters. The younger Stadler ended up eight strokes behind winner Bubba Watson.