Coloradan Becca Huffer wins her second CoBank Colorado Women's Open in playoff after leader makes quadruple-bogey 9 on final hole of regulation
By Gary Baines – 05/31/2019
You just never Noh.
Even when you think something is a dead-solid lock, a sure thing barring cataclysm, sometimes things happen in sports that leave people shaking their head in disbelief.
Such was the case Friday at the CoBank Colorado Women's Open, where one of the most inexplicable finishes ever led to Monument resident Becca Huffer holding the championship trophy for the second time.
Yealimi Noh, a 17-year-old pro from Concord, Calif., led by seven strokes with six holes to play and by three going into the 18th hole at Green Valley Ranch Golf Club.
Yet it was Huffer holding the $50,000 winner's check at the end.
"It's kind of a shock in a way," said Huffer, who also won the 2013 Colorado Women's Open in a playoff. "You go from thinking, 'OK, solid second (place)' to winning the $50K, which is just awesome."
Noh, who was competing without a caddie, could have played the par-5 18th hole — which is bordered all along the right side by a huge penalty area — very conservatively and still won. But instead she went Tin Cup, electing to go at or just to the left of the 18th green with her second shot, despite that requiring a very long carry for her ball.
She deposited her second shot into that penalty area, then, despite still probably being in good shape to win by going the conservative route, hit her fourth shot in also, though she said she wasn't going for the green on that one, but just mis-hit it to the right of her target. All of this while Huffer was waiting — in disbelief — on the left side of the fairway on the right-bending hole.
"I was kind of in between," explained Noh, the 2018 U.S. Girls' Junior and Canadian Women's Amateur champion. "I knew I should have just laid up, but … I don't know what I was thinking."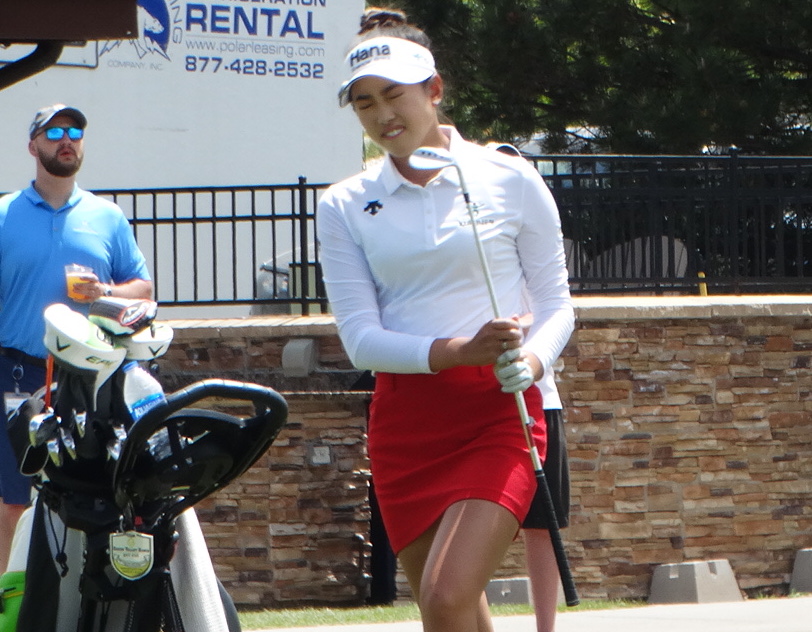 Finally, with her sixth shot, Noh made it over the penalty area — and the green also. She then pitched 30 feet past the pin, and two-putted for a disastrous quadruple-bogey 9.
Now Huffer could win with a par despite trailing by three going into the hole. But a fluffy lie in the rough from 68 yards led to her hitting it high on the face of her wedge and leaving her approach shot short of the green. And after pitching to 5 feet, she missed the downhill par putt, leaving her and Noh in a playoff.
In sudden death — on No. 18 again — both players were side-by-side in the fairway with both their drives and their second shots. But Noh left her third 15 feet below the hole and Huffer 5 feet above it again.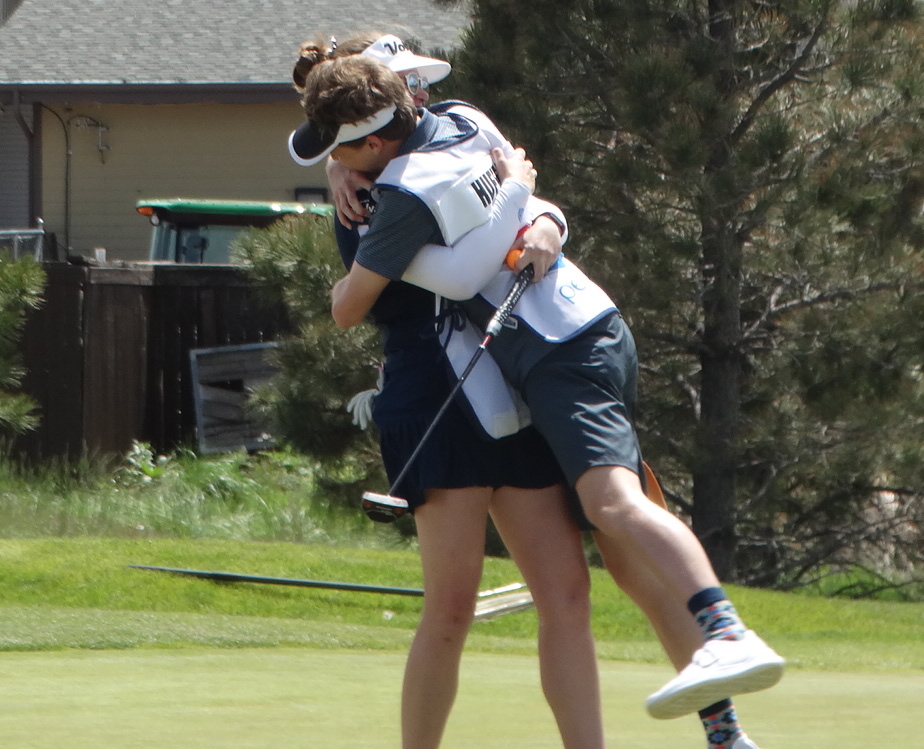 And after Noh missed her birdie attempt, Huffer drained hers, punctuating it with a fist pump (top photo) and giving caddie/brother Zach an emotional hug.
Suffice it to say it was a welcome victory in a year in which Huffer has an LPGA Tour card but has yet to make a cut in eight starts on that circuit.
"It's amazing," she said of the victory and the $50,000 that goes with it. "It'll take a lot of stress off on the financial side. It's just awesome that this tournament provides that. This is the first time I've gotten to play in it with the $50K winner's check so it's fun to get it."
Indeed, when Huffer won the CWO in 2013, the winner's portion was $11,000. She's now the all-time money leader in Women's Open history, with $72,303.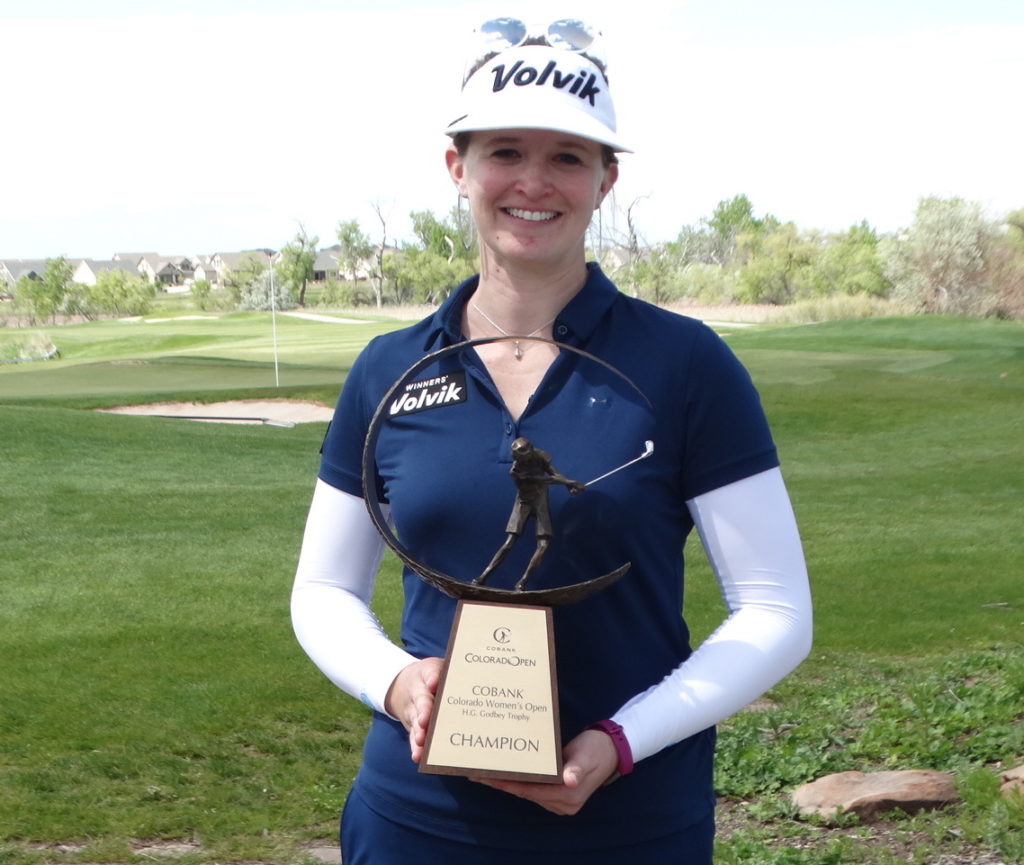 Huffer becomes just the second player to capture the Colorado Women's Open title at least twice, joining Walailak Satarak (2007 and '08).
"That's awesome," said Huffer, a lifelong Coloradan who won two state high school titles and was the CWGA Player of the Year in 2008. "I love that I can win a state championship, being from here and playing this (tournament) a bunch of times since I was in high school. It's fun to do it again."
All in all, it was little wonder why Huffer and her family and pro-am playing partner Tom Lane were celebrating with some champagne in the wake of the improbable finish.
Huffer made five birdies — not including the one in the playoff — and closed with a 3-under-par 69 on Friday, giving her a winning total of 7-under 209. The 9 on the last hole left Noh with a 74 on Friday and an $11,475 payday.
Finishing a distant third on Friday was South African Paula Reto, who ended up at 2-under 214.
As for Noh, she could have won for the third time in May, and for the second straight week. But the quadruple bogey on 18 in regulation on Friday, combined with a triple bogey she made en route to a 67 on Thursday, cost her not only the victory, but the $38,525 difference between first and second place.
"It just made me realize how golf is so unpredictable," Noh said. "It happened yesterday too on my 16th hole. It makes you realize how you have to stay focused until the very last part.
"I thought I learned from my mistake yesterday. Hopefully this will make me for sure know just to always think again."
Asked if she wished she had had a caddie with whom she could have discussed how she played 18 in regulation, Noh said, "Yeah, maybe. It's just one hole. I'm going to have a caddie in the future obviously, and hopefully then I'll make different decisions."
While her game management cost her dearly, Noh was trying not to dwell on it.
"I really don't want to think too much about it," she said. "I'm happy with the way I played. Up until the last hole I was playing pretty good. I'm just glad about where my game is going. I just probably need to fix some mental stuff. And Becca played really well."
Coincidentally, in both of her Colorado Women's Open victories, Huffer has won in a playoff after trailing the leader by five going into the final round.
"It was like deja vu from the last time," she said. "It's kind of weird."
Just like Friday's finish.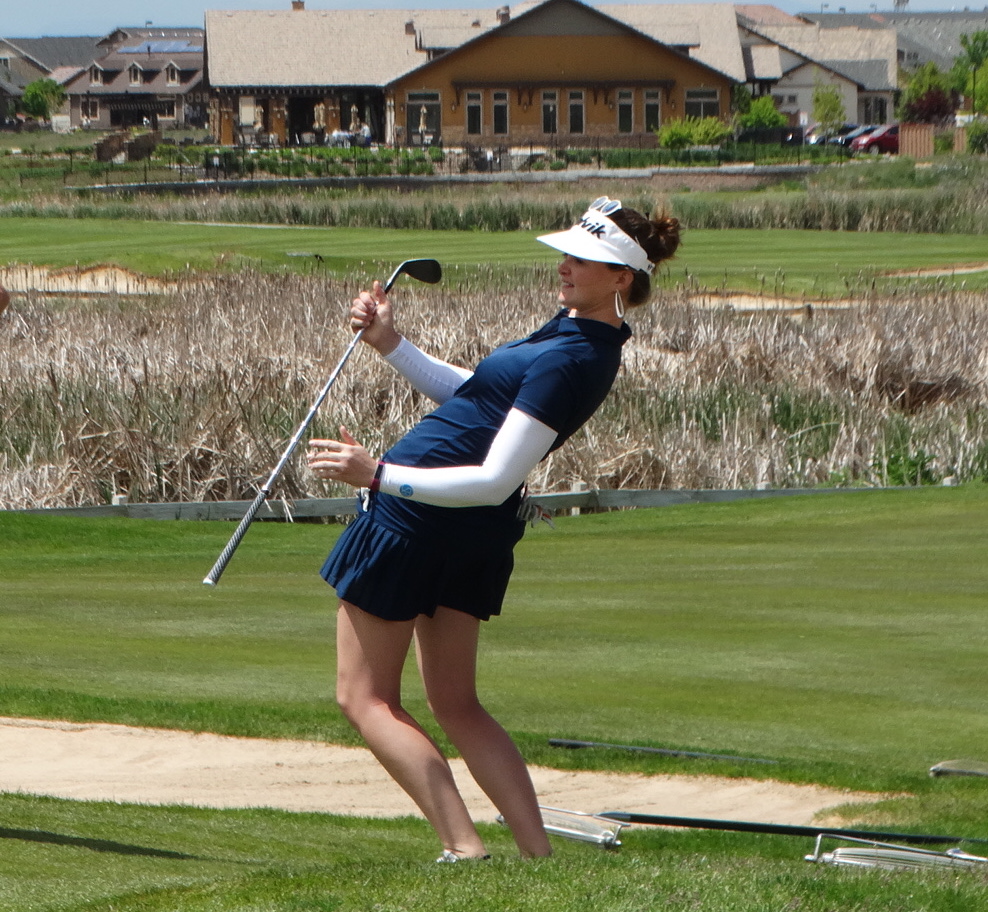 While Huffer (above) certainly will enjoy the spoils of victory, she could empathize a bit with Noh.
"I wasn't quite sure what was going on (with her decision-making)," Huffer said. "Sometimes it's like a learning experience I'm sure. She played great today, but just an interesting decision on 18.
"I'm sure it was like, 'OK, I'm playing good. I'm just going to like, 'I'll pop it on there. It's all good.' It's golf. We've all done that. It's unfortunate timing for her.
"I've played (18 at GVR) enough. I've seen that this hole can eat you up."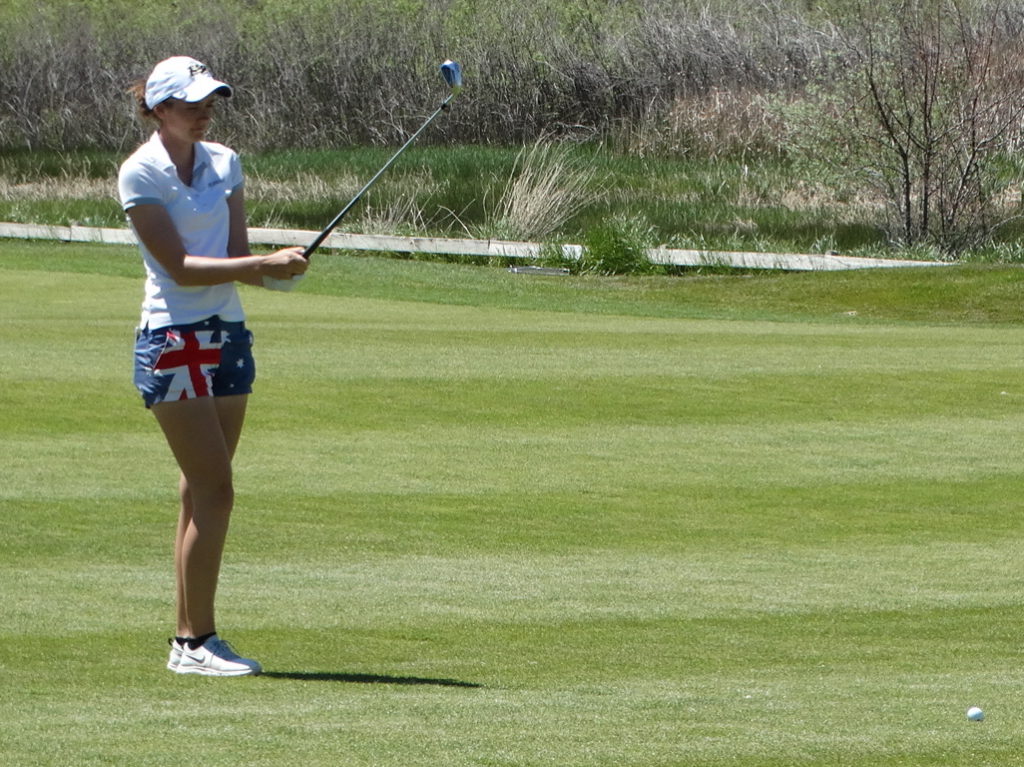 Hodgkins, CU's Proud Aussie, Lands Low-Am Honors: A year after a Colorado State University women's golfer (Katrina Prendergast) claimed low-amateur honors in the Colorado Women's Open, a University of Colorado player earned that spot on Friday.
CU senior-to-be Kirsty Hodgkins posted an even-par 216 total for the week at GVR to win the amateur competition by three and take seventh place overall. It was a welcome showing for the talented Australian, who didn't play her best golf in the spring portion of the college schedule, never cracking the top 10 individually in a spring tournament.
"It feels really good," she said. "I had a tough semester. So to come out here and play well amongst the pros feels really good.
"I completely forgot that they had low-am. It wasn't on my mind. I did take a few days off, so I didn't expect to win, but I wanted to play around even (par). I figured that would be a pretty good score around this course. And I did that."
Hodgkins went 74-69-73 at GVR, which was three strokes better than the amateur runner-up, Caroline Jordaan of Denver, the 3A state high school champion who is headed for the University of Denver.
On Friday, Hodgkins proudly sported shorts that made it clear she comes from Down Under.
"I've got to tell people where I'm from," she said with a smile.

Notable: A team representing title sponsor CoBank — pro Paula Reto of South Africa and amateur Tyler Etcheberry of Wesley Chapel, Fla — went wire-to-wire to win the pro-am competition on Friday. A final round of 11-under-par 61 gave CoBank a record 28-under 188 total and a $2,800 prize. Massage Envy and Team Ringsby tied for second at 191. … Colorado Golf Hall of Famer Jill McGill, who won more than $2.3 million in her LPGA Tour career, finished 28th on Friday while playing her fifth round of golf since November. McGill went 73-76-76 for a 9-over-par 225 total.

For the scores and payout from the Colorado Women's Open, CLICK HERE.