Three generations of Hinkle family ace the same hole at Pelican Lakes in a span of 19 months
By Gary Baines – 11/26/2021
In the case of the Hinkle family, there's no generation gap.
At least not when it comes to having holes-in-one. Three generations of Hinkles currently tee it up on a fairly regular basis at Pelican Lakes Golf & Country Club, and all three have aces to their credit on the courses in Windsor.
That's a nice feat unto itself, but what Larry, Kurt and Carter Hinkle have done goes well beyond that. They've taken the oddity up several notches by all acing the fourth hole at Pelican's 18-hole course. And they all did it within 19 months of one another, with Larry's hole-in-one late last month coming three days before grandson Carter aced the same hole.
"It's unique for family members to (all) get holes-in-one," said Kurt Hinkle, director of marketing and public relations for the Water Valley Company, the parent company of Pelican Lakes Resort. "I've heard stories of husband and wives getting holes-in-one on the same day and the same hole and things like that. I went 42 years before my first hole-in-one and my dad went 52. I never thought I would get one. I have a bunch of friends here at Pelican who are better golfers than I am who don't have holes-in-ones. For us (all) to not only have one, but to get them on the same hole and within the same close timeframe is pretty unique."
Indeed, the Hinkles should really be taking a liking to the fourth hole at Pelican Lakes, where Larry, Kurt and Carter have all aced the test.
Here's the rundown: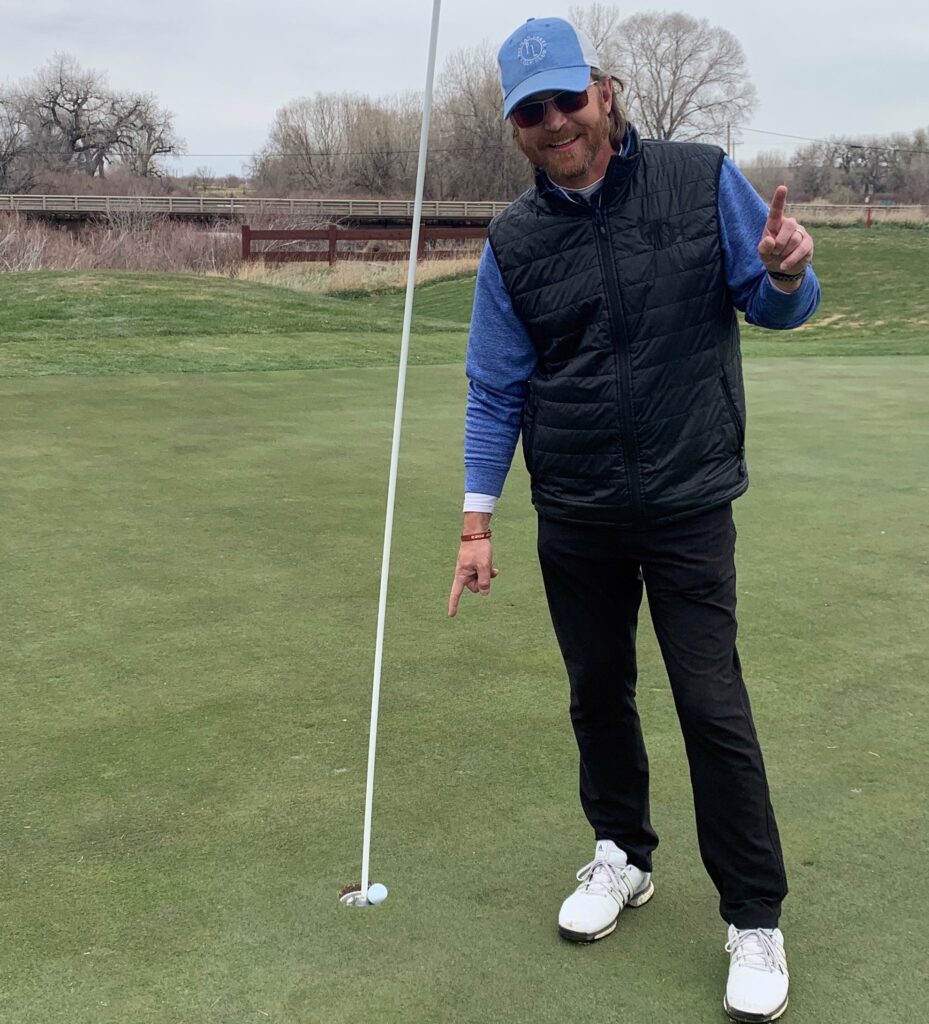 — Kurt started the ball rolling, so to speak,with his hole-in-one at No. 4 from 199 yards on April 15, 2020 — his 44th birthday. He used a 5-iron.
— His dad, Larry, joined in the fun on Oct. 25 of this year, from 169 yards at No. 4, utilizing a 6-wood.
— Then Carter — Kurt's son and Larry's grandson — finished things off on Oct. 28, teeing it up with a 7-iron from 182 yards at No. 4.
"I thought it was pretty awesome because I've always looked up to my grandpa and my dad," said Carter, who this fall helped Windsor to a runner-up team finish in the 4A state high school tournament. "They're big role models in the golf world for me. It's pretty cool to be in the same club with them. They've always had the holes-in-one and I'd never gotten one. So it was pretty cool to join them and follow in their footsteps kind of. … And sooner or later I'll have more than them."
At this point, Carter is bringing up the rear in the Hinkle Ace Standings as last month's was the first of his life. But he's only 16, and that was W-A-Y before Larry or Kurt broke the ice, age-wise.
Larry, 71, has three to his credit, with two of them coming this year at Pelican Lakes after making No. 1 at Riverview Golf Course in Sterling in 2002.
"I'm retired, so I get to play a lot of golf," he said.
And Kurt, 45, is sitting with two, with both coming at the Pelican Lakes complex.
But the fact that all three have No. 4 on Pelican's 18-hole course on their list is a reason to be grateful this Thanksgiving week. And the fourth at Pelican is not any pushover, what with the Poudre River crossing the hole at an angle in front of the green.
As the hole-by-hole run-through on the Pelican Lakes website notes, "Par is a good score here." But maybe not for the Hinkles, who have three aces in their hand at the south-facing par-3.
"Truthfully, it's one of the harder par-3s at Pelican," Kurt said. "You have to carry the Poudre River. But apparently we've found the magic swing to accomplish that."
Kurt's ace there a year and a half ago not only came on his birthday, but proved to be quite lucrative.
He was in a fivesome that day and they were playing a game called "Banker". Kurt was the Banker on No. 4, which meant that, given it was a par-3, if he pressed while the ball was in the air — before landing — it tripled the bet. Well, Kurt pressed with his ball in flight. Suffice it to say that the ace really helped his cause on a day he won in the neighborhood of $170.
And all this happened early in the pandemic, when, due to Covid-19 safety concerns, Pelican was turning the cups upside down. That made the fact that his ball went in the cup — and stayed there — all the more remarkable.
Adding drama to the moment was that Kurt couldn't immediately see where his tee shot ended up.
"One of the guys I was playing with had his (range finder) and he goes, 'That's in the hole.' I said, there's no way; I can kind of see a golf ball.'
"We drove as fast as we could up there. There's more ball sticking out of the hole than was in the hole (because of the flipped cups). It was total luck that I hit it the way I did and it rested against the flagstick and the side of the hole. So (his playing partners) weren't too pleased.
"It was a lucrative day. I just started calling all my other friends and we had a little fun."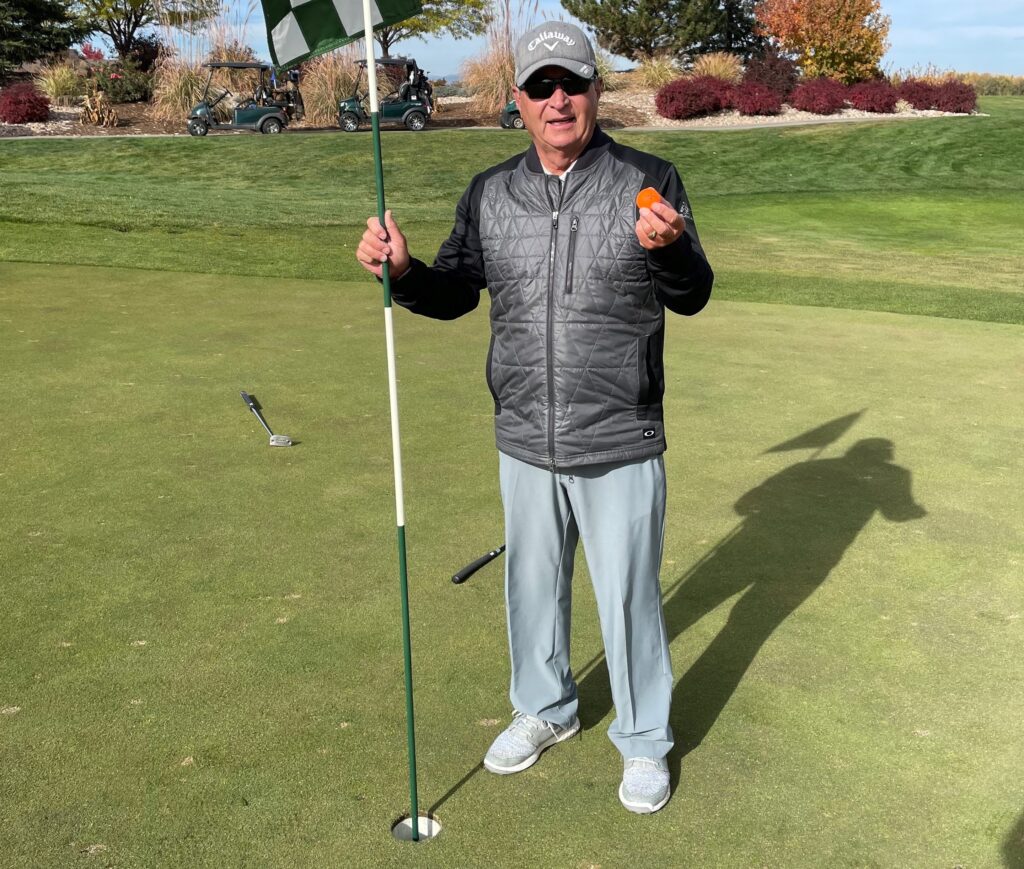 Larry likewise didn't see his ball fall into the hole for his ace on No. 4.
"The guy said I cleared the river and I was pleased with that," he said. "I had a 6-wood — it's plenty of club for the distance — and I thought I was going to be long. I get over there and I look beyond the pin and I couldn't see it. I looked in front of the green and I couldn't see it. So I walked past the hole and there it was. I knew I was going right at the pin with it, but we lost it and it went it."
As for Carter, even though both his dad and grandpa had aced No. 4, when he made his — three days after his grandpa did likewise — the thought of the Hinkles' three-generation feat didn't dawn on him immediately.
Instead, his first thought was of a former Windsor teammate — Andrew Scoggin — "who got a hole-in-one on the same hole and he's always rubbed it in my face," Carter said. "I was a little bit better than him skill-wise, but he always rubbed it in — the fact that he had a hole-in-one. So I call my dad, and the second call was to him, to rub it back in his face, not even thinking about how my grandpa did it and my did it on the same hole."
Actually, like his dad and grandpa, Carter took a few moments to realize that he'd scored an ace.
"I was playing by myself just trying to beat the sunlight (at the end of the day) and play as many holes as I could," he said. "I hit a really good shot, I look away and put my club away. I look and I don't see a ball. I get my shooter and I look again and don't see my ball. I have nothing to lose, so I drop my club and start running toward the hole. And there's the ball, so it's pretty cool."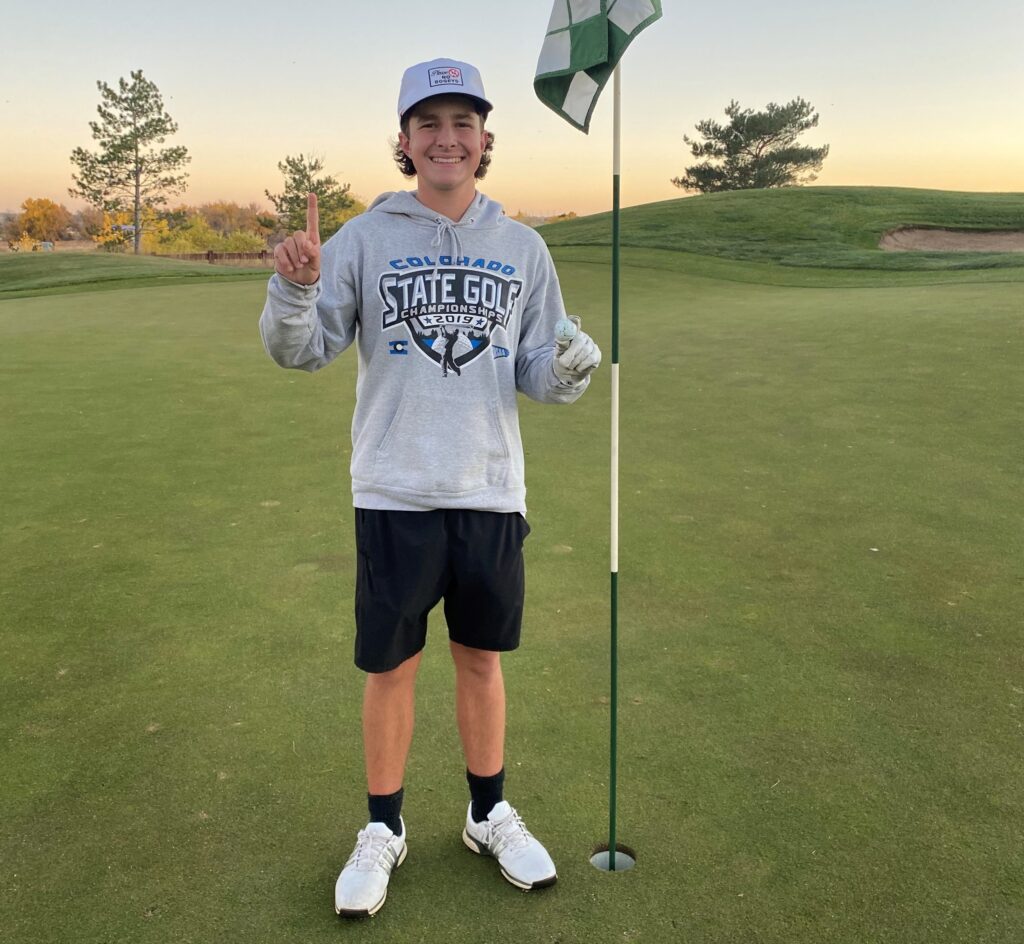 So what does Kurt remember about the call he received that evening from Carter?
"He Face Timed me," he said. "I couldn't hear anything he was saying; it was just all screaming. I was actually at the golf course. It was like 5 o'clock and I met some friends for a beer. All I heard was screaming. I was like, 'What, did you get a hole-in-one?' He said, 'Yes, I got a hole-in-one!'
"So I took a golf cart and drove out there. It was pretty cute: I get up to the green and he was doing the Rocky — running around with his fists up in the air — on the green. He still had his golf glove on. I was like, 'Did you really get this?' He said, 'Yeah, I did.' I see the pitch mark, which was like 2 feet from the cup. I go, 'Where's your club?' And I look back on the teebox and his clubs were still on the stand. He sprinted all the way from the teebox — as a 16-year-old kid would do — to the green and was elated."
Meanwhile, Larry was as excited that his grandson recorded his first ace as he was to get his second of the year just three days earlier.
"I thought it was great," Larry said. "It took me a long, long time to make my first one. Him at 16 years old, I thought, 'There's more to come.' It's fantastic."
For Kurt, his initial hole-in-one — July 27, 2018 at No. 7 at Pelican Falls — was memorable beyond simply the fact that it was his first ace.
"I was playing couples with my wife and my mom and dad," he said. "My son was in the group ahead of us. I was playing a different tee box than (the rest of the people in the group) and I hit it and saw it go in. I started yelling, and I see my son from the 8 tee box on Pelican Falls run over to 7 green and I'm yelling, 'Did it go in? Let's make sure it went in before I totally lose my mind.' So Carter was the first one to see the ball in the cup there.
"For me personally, it's a family affair now that all three of us have aced that hole. And for my first hole-in-one, everyone I cared about watched that."
For those keeping count, five of the six aces made collectively by Larry, Kurt and Carter have come at Pelican Lakes. That only seems appropriate considering it's the home course for all three golfers. And all of them have lived within about a half-mile of one another in the Water Valley community of Windsor, home of Pelican Lakes, since Larry and his wife moved in from Sterling in 2016.
All three Hinkles are longtime golfers, with Larry holding a 14.8 handicap index, Kurt a 5.9 and Carter a 4.2.
But whatever their level of play, all of them now hold an ace in their hand.