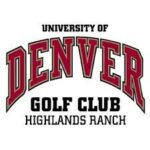 Website University of Denver Golf Club at Highlands Ranch
Position Summary
The Golf Outside Services positions are non-benefited, part-time and not to exceed 1,000 hours in a calendar year. The responsibilities of these positions include, but are not limited to: golf cart fleet management, greeting customers, daily management of players using the course, practice range management, cleaning golf clubs and tee time coordination. Additional duties may include tournament operations, course rules & policies administration and providing exceptional customer service to the members and guests of the course.
Required Qualifications
High School diploma/GED
Flexibility in schedule.
Ability to work during main golf season (May-September).
Ability to multi-task.
Ability to lift up to 50 lbs.
Preferred Qualifications
Previous golf course experience.
Ability to effectively communicate with a variety of staff and customer personalities.
Golf playing background.
Special Instructions
Candidates must apply online through jobs.du.edu to be considered. Only applications submitted online will be accepted.
Please include the following document with your application:
Salary Grade Number
The salary grade number for this position is 3.
Hourly Rate
The hourly rate for this position is $14.77.
The University of Denver has provided a compensation range that represents its good faith estimate of what the University may pay for the position at the time of posting. The University may ultimately pay more or less than the posted compensation range. The salary offered to the selected candidate will be determined based on factors such as the qualifications of the selected candidate, departmental budget availability, internal salary equity considerations, and available market information, but not based on a candidate's sex or any other protected status.
Benefits
The University of Denver offers some benefits for non-benefited employees. The University of Denver is a private institution that empowers students who want to make a difference. Learn more about the University of Denver.
The University of Denver is committed to enhancing the diversity of its faculty and staff. We are an Equal Opportunity/Affirmative Action Employer. All qualified applicants will receive consideration for employment regardless of age, race, color, national origin, religion, sex, sexual orientation, gender identity, disability, military/ veteran status or any other status protected by law.
All offers of employment are based upon satisfactory completion of a criminal history background check.