Ben Crenshaw and course design partner Bill Coore 'touched' after visiting wing of Colorado Golf Club dedicated in their honor; extensive project includes original artwork, memorabilia and major displays
By Gary Baines – 4/27/2021
Anyone who watched Ben Crenshaw's reaction on the 18th green at Augusta National when he won his second Masters in 1995 knows Gentle Ben can be a sentimental old softy.
When he sank the winning putt four days after serving as a pallbearer for his longtime instructor and mentor, Harvey Penick, Crenshaw put his head in his hands and starting crying, being consoled by caddie Carl Jackson. He later said, "I had a 15th club in the bag this week."
On Monday, when Crenshaw came to Colorado Golf Club in Parker, with course design partner Bill Coore, to view the new Coore and Crenshaw Wing of the clubhouse, that soft side again was on display — albeit in a much different situation.
In the late afternoon, Crenshaw and Coore toured the hallway and boardroom at Colorado Golf Club that had been transformed in tribute to the two, who designed the course that's hosted the 2010 Senior PGA Championship, the 2013 Solheim Cup and the 2019 U.S. Mid-Amateur.
Immediately after perusing the displays, artwork and memorabilia dedicated to the two, Crenshaw was naturally asked what his first impression was of the project. And, just as naturally, Crenshaw showed he was genuinely touched.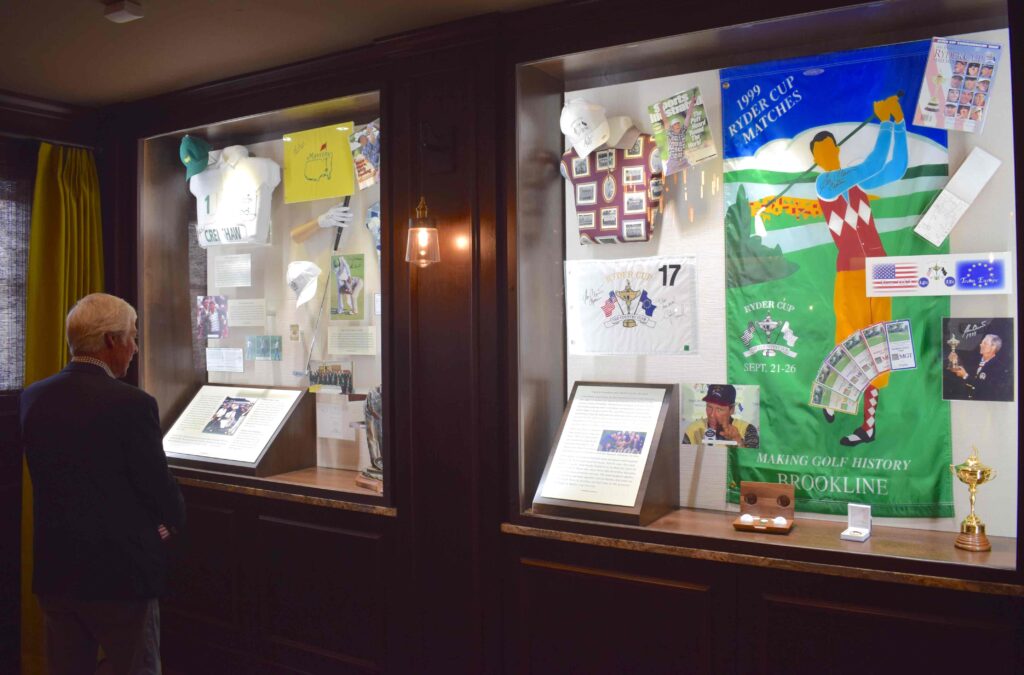 Crenshaw looking at a display in the newly dedicated Crenshaw Boardroom.


"I'm utterly speechless," the World Golf Hall of Famer said. "I can't believe this. Tom (Ferrell, CGC's membership and marketing director who helped shepherd the project) told us a long time ago that he had an inclination to do this, but I never dreamed it would be like this. This is everything that Bill and I have subscribed to all these years, and it's been put together in a remarkable succession. It means a lot to golf history and golf architecture that we think so much of. God, it's just beautifully done.
"It moved me, touched me really deeply."
Added Coore: "This is an extraordinary honor. What can you say? We're very appreciative to say the least."
The project, which ran "north of" $500,000 to put together and construct, pays tribute not only to the much-acclaimed design work of Coore and Crenshaw — who first joined forces in the mid-1980s — but to Crenshaw's stellar playing (and captaining) career. After winning three consecutive NCAA individual titles, the Texan with the putting touch to die for won 19 times on the PGA Tour, including the Masters in 1984 and '95. And he captained the American Ryder Cup team that in 1999 overcame a four-point deficit with a wild rally in the final-day singles session that secured the Cup for the U.S. It turned out to be the only time during the period from 1995-2006 that the Americans defeated the Europeans in the event.
"This is beyond my comprehension," the 69-year-old said of the C&C Wing. "I've never seen anything like this. I've been to USGA Golf House, which covers a lot of ground, but I haven't seen it housed or displayed like this. It's remarkable."
In the newly dedicated Crenshaw Boardroom, there's artwork of five people Crenshaw picked as among the most influential to him — Penick; Coore; Ben's dad, Charlie; Jackie Burke Jr., and Bobby Jones. And the displays in the room heavily focus on Crenshaw's Masters success and the '99 Ryder Cup.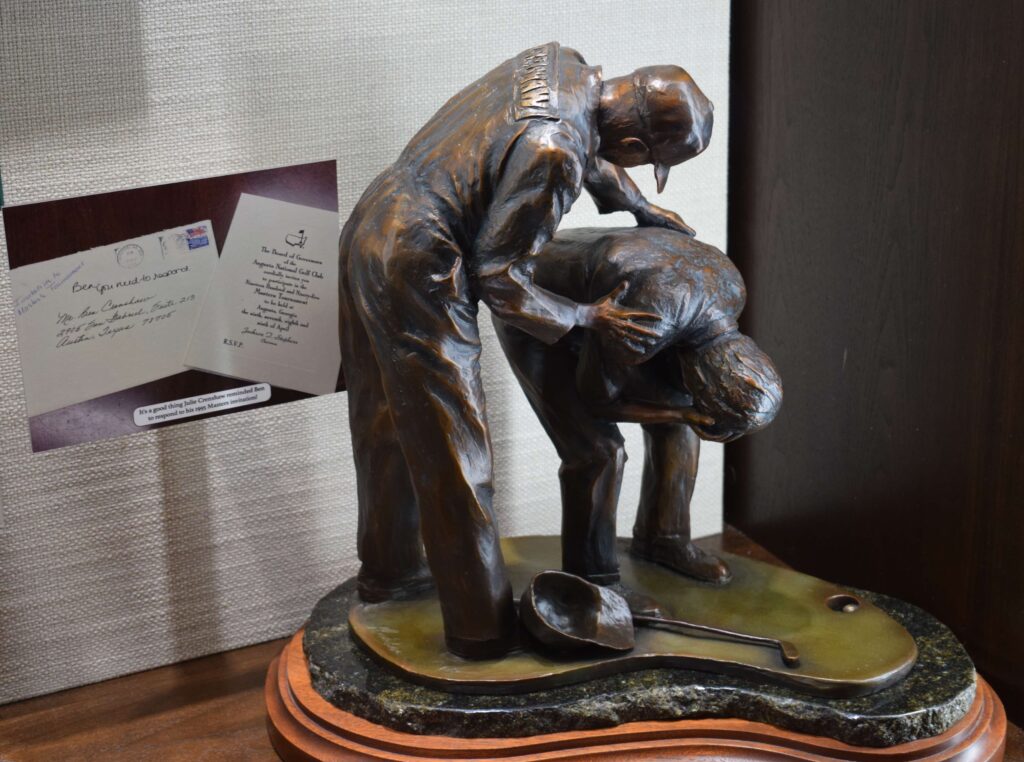 Though relatively small, arguably the centerpiece of the room is a bronze sculpture — created by Bob Fletcher, who likewise did the rest of the artwork — of the scene described above on the 18th green of the 1995 Masters. Right by that sculpture is a photographed display of Crenshaw's 1995 Masters invitation and the envelope — 29-cent stamp and all — in which it was enclosed. On the envelope, Ben's wife Julie wrote, "Ben-you need to respond" to the Masters invite. Indeed, how things would have been different had Gentle Ben neglected to RSVP.
Out in the hallway that leads to the Crenshaw Boardroom, the focus is on golf course architecture — both that of Coore and Crenshaw, and of some of their most famous predecessors in that profession. And, of course, there's a display dedicated to Coore and Crenshaw's work specifically at Colorado Golf Club.
The Coore and Crenshaw team have relatively few original designs to their credit given that they've been together for 35-plus years. By their own count, there are a little more than 30, plus a dozen or so renovations/restorations. They span from Indonesia to St. Lucia, from Australia to Canada, from New Zealand to China — and from Hawaii to the mainland U.S. But the only course they've designed in Colorado — at least to date — has been Colorado Golf Club, which opened 15 years ago.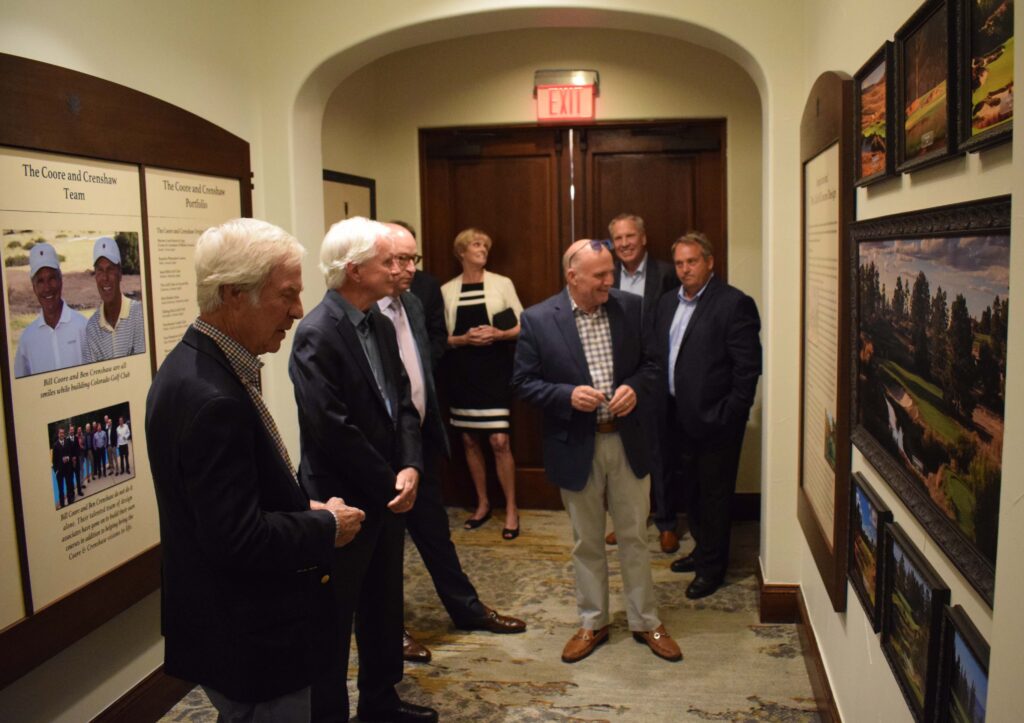 "When we were walking out there today (on the course), Ben and I are just looking around, saying 'This is pretty good,'" said Coore, for whom the CGC ballroom is named. "And we try to be really low key with our promotional side, but at the same time you're looking at it knowing no one is going to confuse this golf course with another one we've done. This looks and feels like Colorado. It's a compliment to this site.
"It's fun to see golf courses as they get better, as they progress in the way you would hope they would. We spent the day walking out there. What you hope you don't do is end up walking a hole and come up with a whole list of things you wish would happen — or could be changed or something. We could find hardly anything. It was just a pleasant walk out there."
Also among Coore and Crenshaw's original designs are Sand Hills in Mullen, Neb. (No. 10 among Golf Digest's greatest American courses); Friar's Head in New York (No. 16); Old Sandwich in Massachusetts (No. 60); Bandon Trails in Oregon (No. 70); Cabot Cliffs in Nova Scotia (ranked 11th among the greatest courses outside of the U.S., according to Golf Digest), Shanqin Bay in China (No. 14), and Lost Farm at Barnbougle in Australia (No. 47).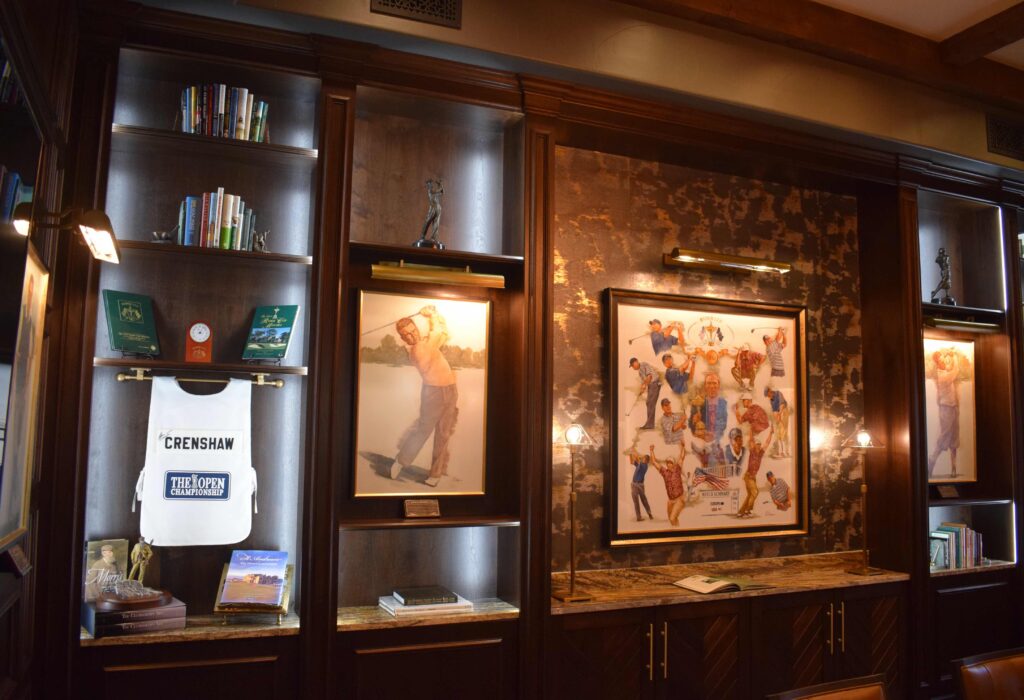 Not surprisingly, every one of Coore and Crenshaw's courses has a special place in their hearts.
"We're very proud of this course" at Colorado Golf Club, Crenshaw said. "It's impossible to rate the courses (relative to one another), but what we love about this course is it looks like it has been here for a long time and it's wed to the ground, wed to the holes that we thought could be placed very carefully on the ground. It doesn't look like anything else; it's unique to this ground. And that's our job. There are some really interesting situations out there — things that you don't set out to build, you just discover.
"And it's maturing beautifully."
After Crenshaw and Coore toured their new wing on Monday, a dinner was held in their honor at Colorado Golf Club, with the proceeds benefiting Crenshaw's Save Muny Conservancy along with the Junior Golf Alliance of Colorado. Then the two partners did a Q&A with journalist Matt Ginella.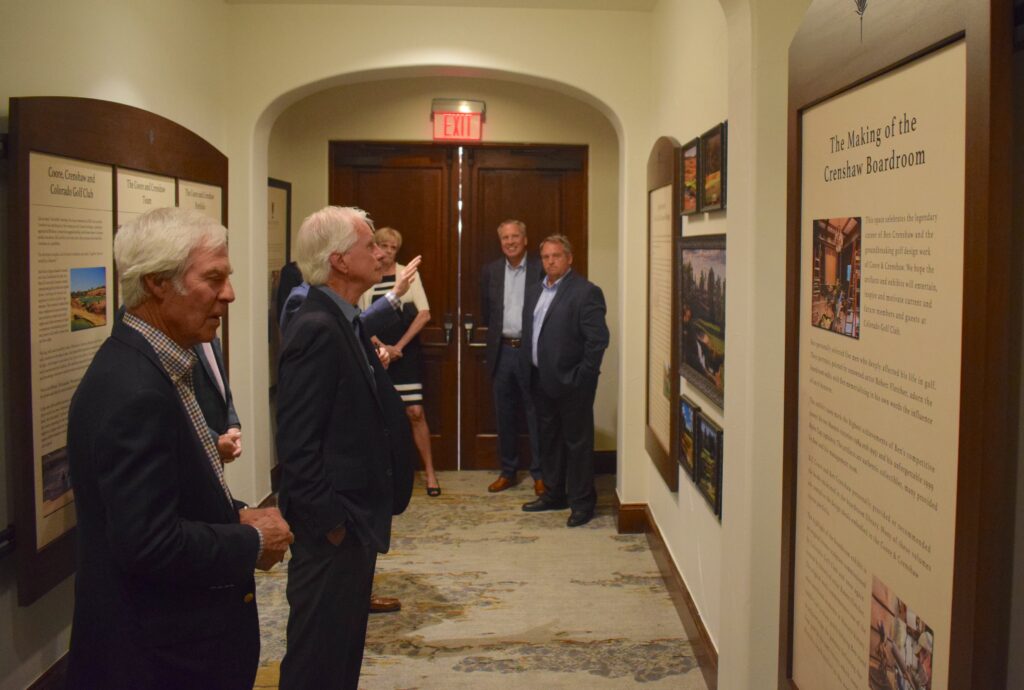 This year will be a busy one for Colorado Golf Club hosting state and regional events. The final portions of both the CGA Match Play and Women's Match Play will be contested there June 11 and 12. The Colorado Golf Hall of Fame will hold both its tournament (June 1) and induction dinner (Aug. 29) at CGC. And a Drive, Chip & Putt regional qualifying event run by the JGAC is set for the Parker site on Sept. 19.
The relationship with Crenshaw and Coore is clearly foundational for Colorado Golf Club. If that wasn't already clear, the efforts of CGC president Matt Kellogg, longtime board member Chris Pitaniello and Ferrell in making the Coore and Crenshaw Wing a reality brought that point home.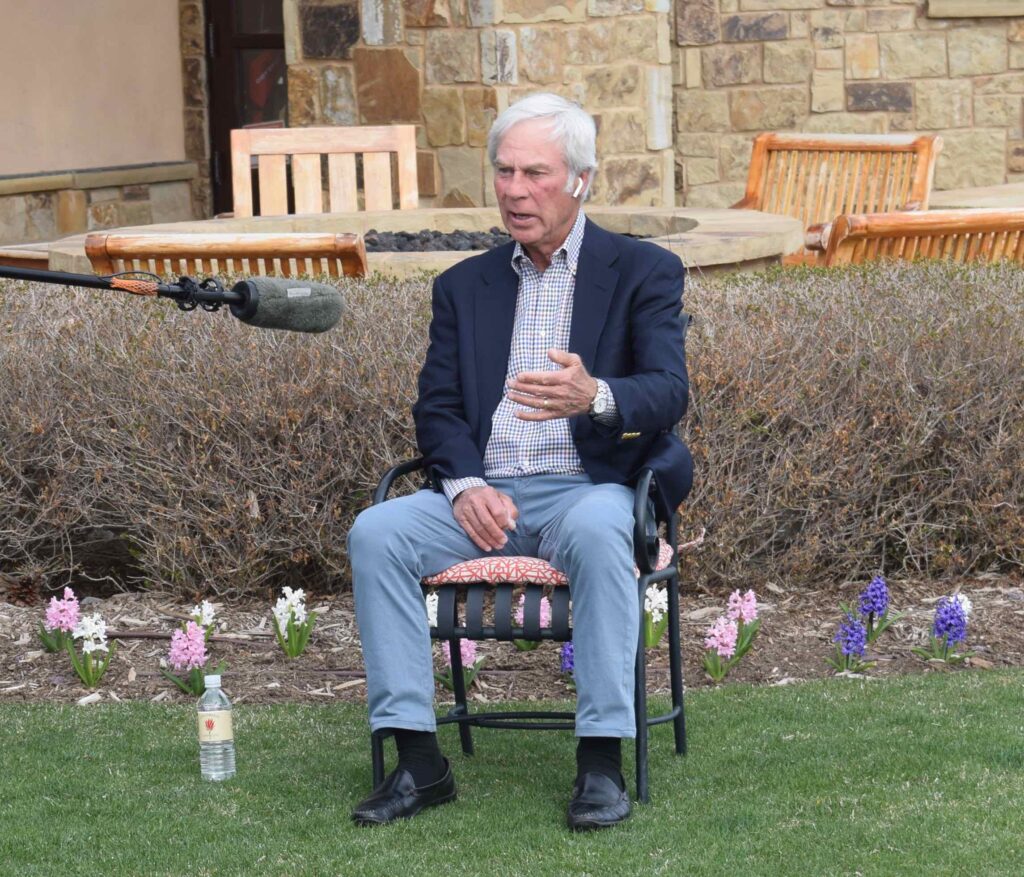 "We believe it's special and we want to honor these guys," said Ferrell, who served as a curator, researcher and writer for the Coore and Crenshaw Wing project. "Our relationship with Coore and Crenshaw is the best thing we have. It's better than the U.S. Mid-Am, it's better than the Solheim Cup, it's better than the Senior PGA. 
"You think about what it would have been like if you had been at Pinehurst when Donald Ross was working on it and being able to talk about what his vision was. Or Alister MacKenzie when he was doing Cypress (Point). We kind of believe we have this unique opportunity to be a part of something (grand)."