DU's McCoy, Loveland's McLaughlin will square off in 36-hole final for title in 119th CGA Match Play
By Gary Baines – 05/20/2019
There's still one day left in the 119th CGA Match Play Championship, but one thing's for sure:
"Mac" will win.
There were only four golfers whose surname started with "Mc" or "Mac" in this week's tournament at The Club at Rolling Hills in Golden, and two of them have advanced to the title match.
University of Denver golfer Cal McCoy, of Bear Creek Golf Club, and Josh McLaughlin of the Olde Course at Loveland, will square off in Friday's scheduled 36-hole final.
McLaughlin, a 24-year-old, becomes one of just a few players older than college age to make the CGA Match Play final in the 21st century, joining Nick Nosewicz (2015), Jonathan Marsico (2011) and Steve Irwin (2004). Nosewicz and Irwin went on to claim the title.
"It feels really great," McLaughlin, a state high school runner-up in Class 4A in 2012, said of being a finalist. "In the past I haven't played extremely great at this tournament. I only made it to the round of 32 once, so this feels really good.
"I know I have the game, but I haven't always been able to bring my game to tournaments. My mental game this year has been 100 percent better. I think that's a big reason I've been able to perform here."
McCoy, a 19-year-old who just completed his freshman season at DU, won twice on Thursday, defeating Pioneer teammate — and co-medalist — Jackson Solem of The Fox Hill Club in 21 holes in the quarterfinals, and Tyler Zhang of Lone Tree Golf Club and Regis University 4 and 2 in the semis.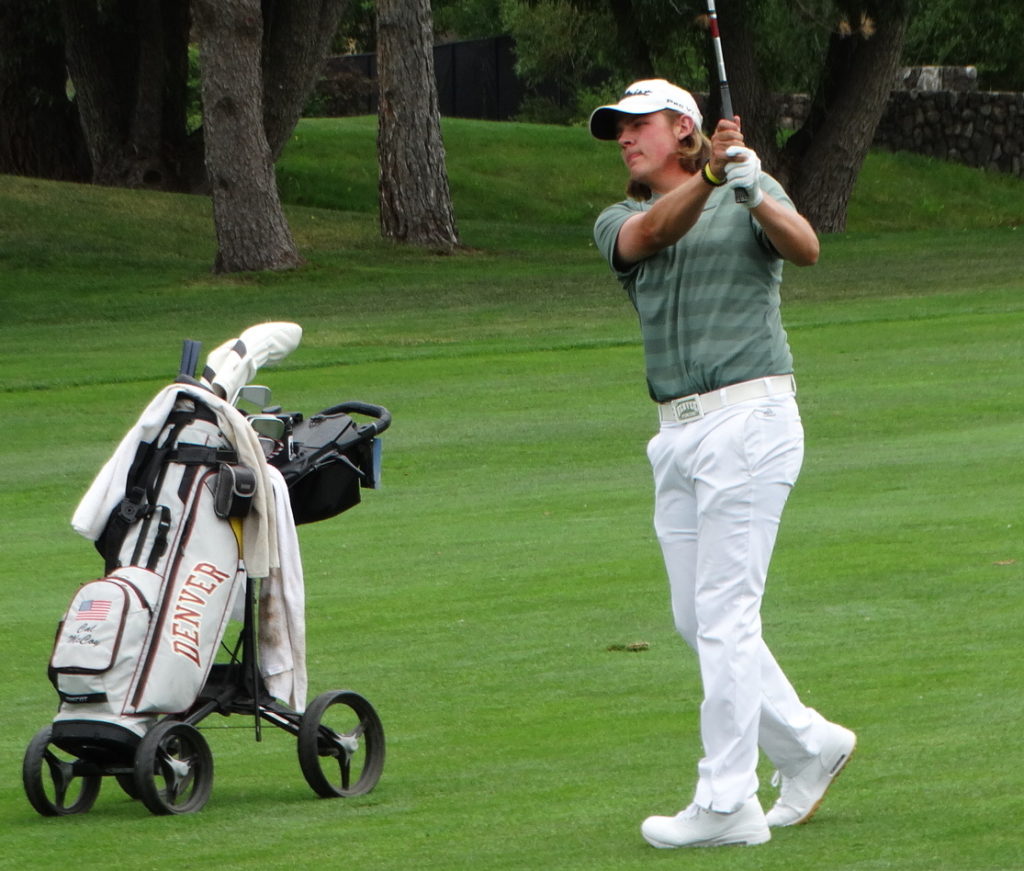 McCoy, the 2019 Summit League individual champion for DU, was 2 down with three holes left in regulation against Solem, but made a 4-foot birdie on No. 18 to force extra holes, then chipped in for birdie from 25 feet on the 21st hole to win.
"It was really hard," McCoy said of playing a teammate. "I know he's a great player and he's one of my best friends. We both wanted to win really bad against each other. There wasn't much talking going on even though we're really good friends. But it feels really good (to prevail).
"He was the 1 seed coming in. He can make a lot of birdies. I knew I was going to be behind him all day (hitting first on approach shots), so if I could just hit good irons shots in and scare him a little bit, I'd have a good shot. Definitely Jackson's match was the toughest for me (this week) and the hardest to get through."
In his afternoon match, McCoy built a 6-up lead against Zhang, then fended off a rally by winning the 15th hole with a par and the 16th with a conceded 5-foot birdie.
McCoy will be attempting to become the second DU golfer in the last three years to win the CGA Match Play, joining Chris Korte, who prevailed in 2017.
"It's awesome," McCoy, low amateur at the 2018 Rocky Mountain Open, said of the opportunity. "I've had a great week so far and I've played a lot of great players. It's awesome to know my game is in the right spot for tomorrow. I'll give it a shot."
For his part, McLaughlin advanced through the quarterfinals without hitting a shot when three-time CGA Mid-Amateur champion Jon Lindstrom of Lakewood Country Club hurt his back while stretching on Thursday morning. Then in the semifinals, McLaughlin three-putted a couple of times early and had to rally from an 2-down deficit to beat University of Northern Colorado golfer — and 2018 Colorado Junior Match Play champion — Jack Castiglia 3 and 2. McLaughlin (pictured at top hitting a top shot as Castiglia looks on) closed out the match by draining a 7-foot birdie on No. 16.
"It means a lot" to have a shot at this title, McLaughlin said. "All these guys in the past that I've played with … I've played with AJ (Ott, the 2018 Match Play champion) since we were little kids. It would be cool" to join him as a winner of this event.

CGA Match Play
At The Club at Rolling Hills in Golden
THURSDAY'S QUARTERFINALS
Cal McCoy, Bear Creek GC, def. Jackson Solem, The Fox Hill Club, 21 holes
Tyler Zhang, Lone Tree GC, def. Sam Marley, South Suburban GC, 23 holes
Josh McLaughlin, Olde Course at Loveland, def. Jon Lindstrom, Lakewood CC, injury WD
Jack Castiglia, Metro Denver E-Club, def. Kyle Pearson, Meridian GC, 6 and 4
THURSDAY'S SEMIFINALS
Cal McCoy, Bear Creek GC, def. Tyler Zhang, Lone Tree GC, 4 and 2
Josh McLaughlin, Olde Course at Loveland, def. Jack Castiglia, Metro Denver E-Club, 3 and 2
FRIDAY'S 36-HOLE FINAL
Cal McCoy, Bear Creek GC, vs. Josh McLaughlin, Olde Course at Loveland, 7 a.m.
For all the results from the CGA Match Play, CLICK HERE.