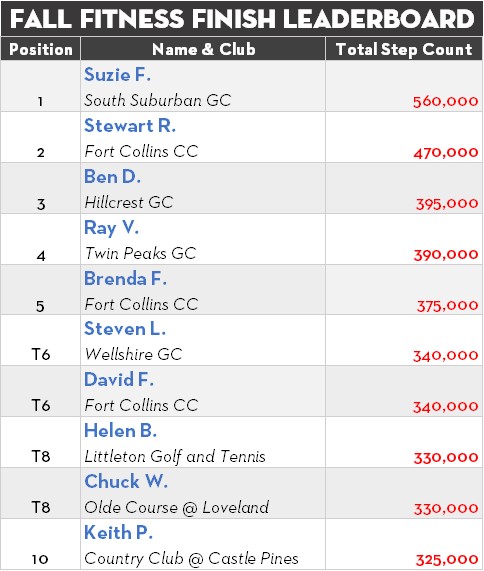 Weekly Winners
Week 1: Kevin B., Columbine CC | 2-some at Gypsum Creek and $125 gift card to PGA TOUR Superstore
Week 2: Joanna S., The Ranch CC | $125 gift card to PGA TOUR Superstore
Week 3: Mary J., Todd Creek GC | 2-some at CommonGround and $125 gift card to PGA TOUR Superstore
Week 4: George S., The Olde Course @ Loveland | $125 gift card to PGA TOUR Superstore
Week 5: Barb M., Littleton Golf & Tennis Club | 2-some at CommonGround and $125 gift card to PGA TOUR Superstore
Week 6: TJ R., Collindale GC | Caddy Daddy range bag and $125 gift card to PGA TOUR Superstore
Week 7: Patricia G., South Suburban GC | 2-some at CommonGround and $125 gift card to PGA TOUR Superstore
Play, Post & WIN!
The CGA is excited to present the Fall Fitness Finish! This is a fitness competition for CGA members to participate in beginning September 22nd through November 15th to see which members have the most steps from playing golf during this fall season. The breakdown of steps is as follows:
9-hole walking: 5,000 steps
9-hole riding: 2,500 steps
18-hole walking: 10,000 steps
18-hole riding: 5,000 steps
How it Works
Enter to win
Post scores
Weekly prizes drawn for participants
Grand prizes awarded to the top three participants with the most steps at the end of the competition
Prizes
Weekly prizes will be awarded at random every Wednesday to participants who are entered.
Grand prizes will be pulled for 1st, 2nd and 3rd place from all entrants after the conclusion of the competition on November 17th.
Prizes include a Stay & Play Package in Estes Park at The Stanley Hotel, $125 Gift Cards to PGA Tour Superstore, and other prizes from Imperial Headwear, Caddy Daddy, Rocket Tour and more!
Additional Details
The leaderboard will be updated weekly throughout the duration of the competition. There are several places you can find this leaderboard:
The CGA's Facebook and Instagram pages
Inside the Member Insider
The Fall Fitness Finish webpage