Jim Engh, Harold 'Skeeter' Sommers, Gary Baines elected to Colorado Golf Hall of Fame; 6 award winners, including Golf Person of the Year Kyle Heyen, also will be honored
10/14/2021
The Colorado Golf Hall of Fame on Thursday elected its largest class of inductees in eight years — and a sizable group of annual award winners too.
In all, three people will be inducted next spring, with the site and exact date to be announced: golf course architect Jim Engh, who lived in Colorado for much of his out-of-the-box career as a designer before moving out of state; the late Harold "Skeeter" Sommers, one of the key figures in western Colorado golf history; and sports writer Gary Baines, who has covered golf in the state since 1983.
That will bring the number of Colorado Golf Hall of Fame inductees to 147, with Babe Zaharias, Dave Hill and Babe Lind comprising the inaugural class, enshrined in 1973.
Two of those 147 are part of the Sommers family as Jack, one of Skeeter's sons, was inducted in 2005.
"It's wonderful," Jack said of his dad joining him as a Hall of Famer. "It's quite an honor for the family. I've talked to my brother and sister and we're really happy. I still recall my induction, (saying) even though it's my name in the Hall of Fame, it's a family affair. I felt like it was family recognition then and now that's more recognized with my dad going in."
Engh, meanwhile, said it was "pretty humbling" to receive the honor given who is in the Hall of Fame.
"Some of the (people) who are in it that I've gotten to play golf with I really, really respect. Dow Finsterwald and Jim English had a great effect on me when they spent time with me. And there are so many others. But (the honor) is a recognition of the fact that you did good things and people liked what you did. And you were a good steward of the game."
In addition to the inductees, six award winners will be recognized at the 2022 dinner. That includes Kyle Heyen (Golf Person of the Year); the Riverdale Golf Courses (Distinguished Service); Ann Wolta Blackstone (Lifetime Achievement); and Future Famers Hunter Swanson, Matthew Wilkinson and Hadley Ashton. (See below for more information on the award winners.)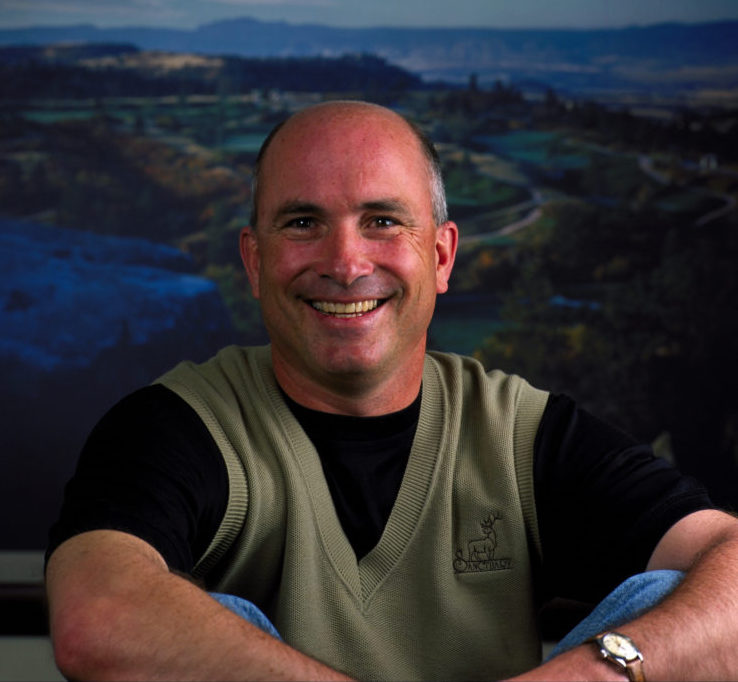 Jim Engh, a graduate of Colorado State University who also lived in the state from 1991-2015, has designed numerous notable courses in Colorado. That includes the hilly, tight challenge that the land for Sanctuary in Sedalia presented. Among the other courses he's done in the state: Redlands Mesa Golf Course in Grand Junction; The Club at Pradera in Parker; Fossil Trace Golf Club in Golden; Red Hawk Ridge in Castle Rock; Harmony Club in Timnath; Lakota Links in New Castle; Snowmass Club; and Four Mile Ranch Golf Club in Canon City.
Engh also has plenty of layouts outside the borders of the Centennial State — and the United States. The Club at Black Rock in Coeur D'Alene, Idaho is among the Engh courses outside of Colorado that makes the biggest impression. In all, he estimates he has his name on about 30 courses worldwide.
Engh's layouts draw reviews that span the spectrum, but they're unique, often spectacular and never boring. In short, he's a maverick in the business.
"I see quirky as unique and interesting, a tool used to enhance an experience in order to deviate from the repetitive and the mundane," Engh said on his website. "In reference to golf course design, quirky is often considered to be an evil that in some way disrespects the heritage of the game and the designers of the past.
"Without quirky and without oddity, there can be no uniqueness and variety. Therefore, without quirky, the golf experience would become similar to the skillful, yet uninspiring sport of bowling.
"I choose to embrace the uniqueness of nature, as well as my passion to create a unique and interesting golfing experience. Through quirky, the ultimate goal is fun."
For his work, Engh was named Golf Digest's first Architect of the Year.
Engh is also a former member of the Colorado Golf Hall of Fame board of directors.
Nowadays, Engh has greatly cut back on his design work. He lives at Black Rock in Idaho during the summers, and in Arizona and Cozumel in Mexico during the winter months.

Harold "Skeeter" Sommers, as noted,will make it a father-son team in the Colorado Golf Hall of Fame as son Jack was inducted 16 years ago.
Skeeter Sommers was dubbed "Mr. Golf" in Grand Junction for what he did for the sport in western Colorado. He was a big reason for the success of the Grand Junction-based Rocky Mountain Open in the post-World War II years after the event debuted in 1939. The RMO was recently conducted for the 83rd consecutive year.
A caddie at Lincoln Park Golf Course as a youngster, Sommers served in the Army during World War II, when he received a Purple Heart after sustaining a serious wound in France shortly following the D-Day invasion. After a stint as the head professional at Lamar Golf Course in the early 1950s, he was a fixture as the PGA head pro at Lincoln Park from 1957 to the mid-1960s.
Sommers won the Rocky Mountain Open title himself once (1948) but essentially hosted and ran the popular tournament for years. Both his sons — Jack (1978, '81 '85 and '91) and Dan (1970, '76 and '80) — also claimed the RMO title. In addition, Skeeter was well known for teaching and mentoring junior golfers.
"His (teaching) philosophy was pretty simple," said Jack Sommers, who now is a PGA head professional at a couple of courses in Sun City West, Ariz. "His famous saying was always, 'Firm with the left and hit it square.' It was pretty simple, basic stuff. There was no clutter in his teaching or his golf game at all. It was getting it from Point A to Point B."
After leaving the Lincoln Park job — and working in the car business for a while — Skeeter ran a driving range in Grand Junction for a time.
Sommers passed away at age 65 in 1985. Posthumously, Sommers received Noble Chalfant Award, given for distinguished service to the Colorado PGA.

Gary Baines, a onetime caddiemaster/starter at Columbine Country Club, went on to receive a Journalism degree from the University of Colorado, which he attended while on an Evans Scholarship for caddies. He's spent much of his sports writing career working at newspapers in the state, most notably 25 years at the Daily Camera in Boulder County, including almost six as the sports editor.
While Baines has covered many sports over the years, including as a beat writer on the Denver Nuggets for more than a decade, he's been a fixture reporting on golf in the state since 1983. He's covered each of the last 38 Colorado Opens, all 21 Internationals at Castle Pines, two U.S. Opens, one PGA Championship, three U.S. Women's Opens, a Solheim Cup, three U.S. Senior Opens, two U.S. Amateurs and many other USGA championships, along with countless CGA championships and other statewide tournaments.
In 2008, Baines founded Colorado Golf Journal. The next year he became a year-round contributor to the CGA website, ColoradoGolf.org, writing about — and photographing — all things Colorado golf. That role continues to this day. Baines has won a half-dozen Colorado golf journalism awards from such organizations as the CGA, Colorado PGA and the Colorado Open, along with the 2019 Robert Kirchner Award, presented to individuals "for having contributed greatly to amateur golf, professional golf and/or tournament golf in the state of Colorado."
Baines serves on the selection committee for the Colorado Sports Hall of Fame and on the board of directors for the Colorado Golf Hall of Fame.
As for the Hall of Fame's award winners:
— Colorado Golf Hall of Famer Kyle Heyen (Golf Person of the Year) will be inducted into the national PGA of America's Hall of Fame next month, becoming just the seventh person with strong Colorado ties to earn that high honor, joining Babe Zaharias, Paul Runyan, Ed Dudley, Warren Smith, Vic Kline and Dow Finsterwald. Heyen has worked at Hiwan Golf Club in Evergreen for almost 41 years and has been the PGA head professional there for the last 36. (READ MORE)
— The Riverdale Golf Courses in Brighton (Distinguished Service) have been home to the Colorado Golf Hall of Fame museum for 16 years, helping display countless artifacts in the clubhouse and telling the story of the game in the Centennial State. In early 2023, when the Colorado Golf Hall of Fame turns 50, it will relocate the museum to The Broadmoor in Colorado Springs after Riverdale generously hosted the displays for much of the early part of the 21st century.
— Ann Wolta Blackstone (Lifetime Achievement) is both a highly regarded, longtime LPGA teaching professional and a volunteer extraordinaire known for generously giving of her time, particularly to golf-related causes. The former Arizona State University golfer also raises money for worthy endeavors, many related to girls and women's golf, and she played a key role in launching the Colorado Women's Open. She's done all this work tirelessly while battling breast cancer on more than one occasion.
— Hunter Swanson (Future Famer) was the Junior Golf Alliance of Colorado's Boys Player of the Year in 2020 and put together another stellar season in 2021. The future University of Colorado golfer finished second in a playoff at both The First Tee National Championship and the Colorado Junior PGA Championship, and was also runner-up in the JGAC Tour Championship and the AJGA Junior Open at The Bridges in Montrose. He was one of four players who represented Colorado at the Junior America's Cup this year, he qualified for the U.S. Junior Amateur and finished fifth in the pro-junior portion of the PURE Insurance Championship at Pebble Beach, while playing alongside PGA Tour Champions professionals.
— Matthew Wilkinson (Future Famer) won both of the Junior Golf Alliance of Colorado majors in which he competed in 2021, giving him three JGAC major victories since mid-2020. The future Colorado State University golfer also qualified for the U.S. Junior Am, was Colorado's top finisher at the Junior America's Cup (13th overall) and helped Arapahoe win its first boys state high school team title since 1988.
— At the age of 14, Hadley Ashton (Future Famer) recently became the youngest girls winner of the JGAC Tour Championship, winning by five strokes at Denver Country Club. With six victories in JGAC events this year and two top-10s in majors, Ashton finished third on the 2021 JGAC Tour girls points list.